Take The Easy Route
Hoosier Shuttle is a locally owned business providing SEVERAL TRIPS DAILY between Fort Wayne and Indianapolis.
Central Pick Up Locations
North Ft Wayne - 418 W Coliseum Blvd - Rear lot of the Tile Shop (Long Term Parking)
SW Ft Wayne - 5785 Coventry Ln - Bob Evans Lot
69 South Exit Pickups Available (refer to reservations page for exit pickups)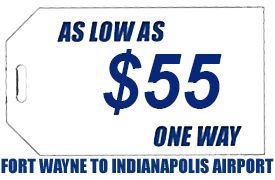 Hoosier Shuttle offers trips to the Indianapolis airport or downtown Indianapolis. Travel in comfort in one of our twelve passenger vans, without the worry of traffic or parking, while your luggage stays secure in an enclosed trailer. With our low prices and exceptional service, Hoosier Shuttle is the BEST choice for traveling to and from Indianapolis.
Click on the Services Link to find out more about our Special Event Trips.